Vibration Feeder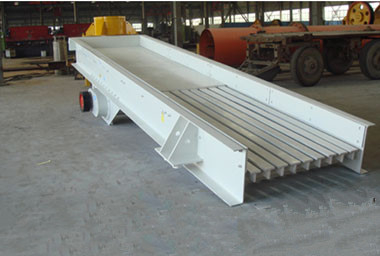 Type: Necessary Equipment
Input Size:0-1000 mm
Processed Materials:River Gravel, Granite, Basalt, Quartz, Iron ore, Diabase, Limestone, Coal Gangue etc.
Applications:Aggregate Field, Concrete Mixing Plant, Dry Motar Plant Desulfurization, Quartz Sand etc.
Contact
Leave Message
Detailed introduction
We manufacture professional quality Vibrating feeders used in industrial, mining, construction material, silicate and chemical plants. Our feeders are manufactured out of the most optimum quality raw materials.
Vibrating feeder can be developed in accordance with the specific need of clients. Due to performance, quality and competitive market prices our feeders for Crusher are in great demand. Feeders are designed and fine tuned to assure the uniform and regular flow of materials over the crusher, screening system and to the conveyors. The settings of feeder equipments can be adjusted according to the requirement.
Working Principle:
Vibrating feeder is designed based on the vibration principle. It creates vibration when the materials are passed into the funnel and screen. Vibrating feeder is made up of vibrating frame, vibrator, spring, motor and motor vibrating accessory. The vibrator contains two fixed eccentric shafts with jogged gears. And they create a high aptitude to vibrate the equipment.The electromotor drives the eccentric block of the exciter to rotate with high speed through the v-shaped belt. The eccentric block can produce big eccentric force, and the exciting screen box will do circular motion with certain amplitude. The materials on the slant screen will be influenced by the impulse transmitted from the screen box and do continuous throwing motion, and the materials smaller than the screen hole will go through the screen, thus realizing classifying.
Features:
Vibrating feeder has stable vibration, reliable working and long service life. The exciting force can be adjusted to change and control the material flow and the adjustment is convenient and stable. The vibration motor is the vibration source, so that the noise is low, electricity consumption is small and the adjusting performance is good without material clashing.
Technical specifications:
Model

Max.
Feeding Size
Processing
capacity
Motor
power
Obliquity of
material trough
Total
weight

Trough size

Dimensions

(mm)

(t/h)

(kw)

(°)

(kg)

(mm)

(L×W×H)(mm)

GZD-650×2300

300

80

1.1×2

10

2798

650×2300

2300×1360×780

GZD-750×2500

350

100

1.1×2

10

3260

750×2500

2500×1460×780

GZD-850×3000

400

120

3×2

10

3607

850×3000

3110×1800×1600

GZD-1000×3600

500

150

5.5×2

10

3895

1000×3600

3850×1950×1630

GZD-1100×4200

580

240

5.5×2

10

4170

1100×4200

4400×2050×1660

GZD-1300×4900

650

450

7.5×2

10

5200

1300×4900

5200×2350×1750

GZD-1500×5600

1050

450-800

11×2

10

7500

1500×5600

5700×2000×1750

ZSW-380×95

500

100-160

11

0

4823

3800×960

3920×1640×1320

ZSW-490×110

630

150-320

15

0

6647

4900×1100

4980×1830×1320

ZSW-490×130

750

400-600

22

0

8760

4900×1300

4980×2580×2083

ZSW-600×130

750

400-600

22

0

9250

6000×1300

6082×2580×2083

ZSW-600×150

800

500-700

30

0

10190

6000×1500

6086×2662×1912

ZSW-600×180

800

700-1000

37

0

13750

6000×1800

6310×3262×2230
INFO REQUEST
Thank you for your interest in Yuhong Heavy Machinery. If you want to learn more about our products,
Contact us Now to find out what we can do for you next project !
Focus on Quality, Serve Worldwide
Establish strong sales service system with full coverage for 6 continents, 140 countries.
Whatever your requirements, you 'll find the perfect service-oriented solution to match your specific needs with our help.
Right where you need us,whenever you need us
ATTENTION! WE HAVE ONE-STOP SPARE-PARTS SUPPLY CHAINAll kinds of parts, Full range of models