Double-roller Crusher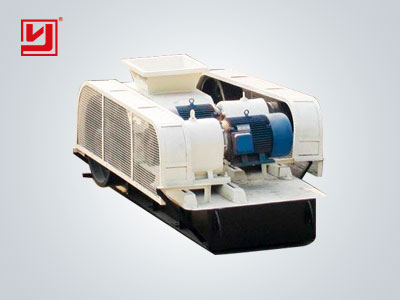 Raw materials: limestone, slag, coke, coal and other materials
Application: cement, metallurgy, chemical, electric power, coal and other industries
Capacity: 5-190 t/h
Max feeding size: 800mm
Shipping ports: Shanghai, Qingdao or Tianjin
Delivery:15-30 days
Contact
Leave Message
Detailed introduction
Introduction
Double-Roller crusher is mainly applied in cement, metallurgy, chemical, electric power, coal and other industries for crushing various materials of medium hardness like limestone, slag, coke, coal and other materials. According to the numbers of the roller, it is divided into single roller crusher, double rollers crusher and multirole crusher. It has simple structure, less phenomenon of over-crushing, and reliable operation.
Features
1. Simple structure, reliable operation
2. Low cost and less over-crushing phenomenon
3. Adjustable discharging size and high economic benefits
Working Principle
It mainly consists of frame, rotary device, crushing roller, adjustment device and spring safety device.When working, the two rollers rotate toward each other, and the minerals will enter between them, by action of the friction, the minerals will be sent into the crushing space for pressing. Due to the gravity of minerals, they will be discharged out from the gap of two rollers. And the minimum distance of the two rollers is the width of the discharge size.
Technical Parameter
Model
Feed-in
Discharge
Capacity
Power
Weight
Dimension (L×W×H)
Size(mm)
Size(mm)
(t/h)
(kw)
(t)
(mm)
2PG400×250
<35
≤2-8
2-10
2×5.5
1.3
2110×870×810
2PG610×400
<65
≤2-20
5-20
2×15
3.9
3510×1420×1030
2PG750×500
<75
≤2-25
10-40
2×18.5
9.5
4210×1630×1260
2PG800×600
<80
≤2-25
12-45
2×22
10.8
4505×1780×1320
2PG1000×700
<100
≤3-30
20-65
2×30
14.9
5310×2175×1595
2PG1200×800
<120
≤3-35
35-80
2×37
25.5
6290×2270×1870
2PG1500×800
<130
≤3-45
50-120
2×75
33.7
7460×2410×2290
2PG1600×1000
<150
≤3-50
60-140
2×90
41.2
8220×2680×2475
INFO REQUEST
Thank you for your interest in Yuhong Heavy Machinery. If you want to learn more about our products,
Contact us Now to find out what we can do for you next project !
Focus on Quality, Serve Worldwide
Establish strong sales service system with full coverage for 6 continents, 140 countries.
Whatever your requirements, you 'll find the perfect service-oriented solution to match your specific needs with our help.
Right where you need us,whenever you need us
ATTENTION! WE HAVE ONE-STOP SPARE-PARTS SUPPLY CHAINAll kinds of parts, Full range of models